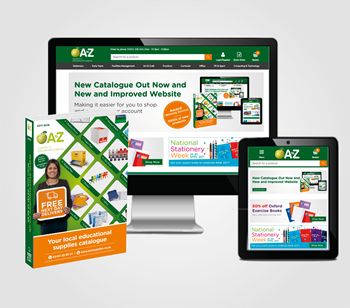 With over 13,000 prices held or reduced for 2018/19, our new catalogue is our best yet! If you need a copy, just choose which one you'd like and we'll post a copy out to you for free. Don't forget, you can always find the products you need right here online too.
Why can I only order a maximum of 5 catalogues?
In order to ensure the most efficient delivery we can only allow 5 books to be ordered online, however if you contact our customer service team directly they can organise for additional books to be sent, please email enquiries@atozsupplies.co.uk
When does your new catalogue come out?
Our latest catalogues for 2018/19 are available now, simply enter the number of copies you need below and provide your delivery details.
Where can I download a version of your catalogue to import into my FMS?
You can download copies of our latest catalogue for any of the following FMS:
Capita SIMS
RM Education
Informatics Computing
Civica
PS Financials
Simply click to download the file for your FMS system via our FMS Files download page.